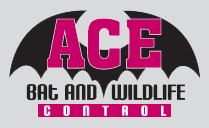 Testimonials and References
Dear Bat Man,
I just wanted to thank you for getting that bat out of my house. I was spooked for a long time.
Thank you for helping my family and I.

Love,
Isabella
Dear Mr. Carter,
Thank you so much for taking care of our bat colony! We appreciate your coming so quickly. Just talking with you put my mind at ease. Obviously, you know exactly what you're doing. Good luck with our bats. Do you take them somewhere else to set up their home?
I know my son and daughter-in-law were upset with the bats. My daughter, on the other hand, would consider living with them!
If we miss meeting you when we're in the Village of Four Season, I am sorry. We will be there around noon on Friday. Perhaps this will work in with your schedule. We would love to meet you and learn about your interesting work.
Thank you again,
Phyllis
Dear Mr. Carter,
The references you gave me were outstanding. The woman who called me back spoke glowingly of your professionalism and compassion. (They also mentioned that you were not cheap, but that you were worth every penny.)
I hope in my lines of work I occasionally get recommendations as heartfelt as those.
Here is the down payment we discussed. Good luck.
Sincerely,
David



Nelson,
Thanks so much for the great job you did getting rid of my bat problem. I was so impressed with all the caulking and screwing down which was done. It was nice to actually find someone who did what they said they were going to do . . . and even more so.
I will put you on the top of my list for future siding jobs, as we discussed, and recommend you highly to anyone I can.
Thanks again!
Sharon
To Bat Man Workers,
This little note is to let you know how much we appreciate the great job you guys did! We really thought your cost was low and your future payments were reasonable!
Your group worked hard and very efficiently! You were always available when we called! We want to recommend you highly to anyone needing your services!!
A Very Happy Customer,
Mr. & Mrs. Pace
Dear Bat Man & Crew,
Thank you for all your efforts removing the bats from our house. We appreciate all that you did.
We wish you and your families a safe, healthy, and happy holiday season.
Thanks again,
Norma & Steve

To Whom It May Concern,
My husband and I would like to thank you and your company for all the professionalism, understanding, and caring that your staff has shown our family.
Thank You Again,
Sally & William
P. S. Thanks Justin!
Dear Mr. Carter:
This letter is to express my thanks to you and your company for the excellent professional services provided to me in solving the major bat infestation of my residence in Pocono Summit.
In addition to successful identification and remediation of the bat problem, your extra effort on my behalf in voluntarily appearing as a "Technical Expert" at the Municipal Court hearing on the matter was critical to my case. I believe that your testimony was instrumental in the very successful result in this court. Technical aspects of the bat infestation, including many factors with the building construction pointed out by you and not being identified by the "Home Inspectors" resulted in a judgment against the defendant in the full amount of the damage caused.
Please accept, on behalf of my wife and myself, our appreciation for your excellent service and extraordinary personal efforts in assisting us with this problem.
Sincerely yours,
L. R.

Dear Mr. Carter:
The treatment to our house on Lake Henry, Maplewood, of bat infestation appears to have been effective. Our visits to the house this summer has only been during the 4th of July weekend. At that time no bats were seen or heard. However, there is still a strong odor of bats upstairs, especially on very warm days. There was a small amount of bat droppings in the corner of the entrance to the bedroom of the second dormer. This could be from former infestation.
Is it possible that another vacuuming in the attic area in the daytime would be effective? Will another inspection of the house be done before August 31st? Some members of the family will be there during the last week of July and most of August.
We are grateful for the work you did to rid us of the severe infestation of the bats in our house. At this time I'm uncertain about renewing the contract we have for another year. I will notify you before August 31.
Thank you for the excellent job you did. It's been a pleasure doing business with you.
Sincerely,
Martina
Hi Nelson,
I was great talking with you today. As we discussed I'm sending you a check for $70.00 to cover contract renewal for 2000-2001.
Keep up the good work. Now that I found your address and phone # again, I'll be sure to recommend you if I hear of anyone unwillingly harboring bats.
Like you asked, we'll call you after our roof is done in the fall. Hopefully our nocturnal friends will stay outside!
Charles
Dear Bat Man,
Thank you! Thank you! Thank you! You did it! You got rid of our bats! I am thrilled we found you, a real bat expert. The Lord knows we've tried every pest control company out there, we finally got the true "Bat Man".
I need to tell you, I didn't think we'd ever get rid of those bats. We had such an extreme problem. I believe we counted 365 bats when you did the "watch", and they had lived here at least 40 years. Regardless, when I spoke to you , the knowledge you had and the expertise you exhibited during the closing, convinced me that we were in excellent hands.
I still check the attic as you suggested and for over 2 ½ years, I haven't seen any evidence of reinfestation…No bat dirt, No noises, No bats…Nothing!!! As a matter of fact, since you did the job, not only have we not had bats in our house, but I haven't seen any in my neighborhood.
I just had to thank you for doing such a fantastic job, you've made me happy beyond belief.
Thank you very much Bat Man,
Denise
"Bat Man" Is My Hero!

As one with a compromised immune system and chemical sensitivities, I am very chemical averse. My environment must be free and clear of any mold, radon, carbon monoxide or any other invisible hazards. Upon purchasing our home in Eagles Mere we had the water and air tested even more thoroughly than usual to ensure that I would have no exposure to anything even remotely toxic. Until recently, however, I did not know about the dangers posed by wildlife in our attic.
Last month I heard nocturnal activity in my attic and soon discovered that the cause was two flying squirrels. They had made their way down from the attic and eventually nested in my bedroom wiring. I awaited a self professed pest control expert for one week but he could not make it to my home. By that time my bedroom lights were coming on and off at random as if a ghost were cohabitating with us.
Finally, I gave up on the pest control company and dedicated to call the National Wildlife Control Operation Association to learn that there was only one certified professional recognized by them in our area – the "Bat Man", bat and wildlife control of Susquehanna, PA.
Bat Man, or Nelson, not "Bruce Wayne", came to my home and immediately found a flying squirrel carcass. A possible cause of death may have been electric shock. Later another member of the clan was found in the same condition. At that point Nelson gave me the alarming statistics. Did you know that most house fires are caused by wildlife chewing through wire? I was shocked and immediately called Wingfield Electric in Hughesville, who came right away, thank God. I knew I could not sleep in my home with my three children another night until I had piece of mind.
Nelson completed his initial inspection of my attic and found evidence of bat feces. My wildlife education continued at that time. Did you know that you can get sick from inhaling the small particles left from the degeneration of bat feces? Histoplasmosis, a sometimes fatal lung disease, is a bacterial and fungal disease which stems from prolonged exposure. Even if the bats are in the attic, silently sleeping by day, the particles from the bat feces can seep through tiny cracks into our living space and over time can make us seriously ill. We are all at risk, as the bats only need a ½ inch opening in a rood, siding, or fireplace, to enter our home. Because of this, I hired Nelson's crew to seal the entire exterior of my home after trapping and removing all of the wildlife. A deodorizer is applied last to help eliminate any odors in the attic and a fog is applied for bat bugs, residual pests that may linger even after the removal of the host animal. For cottages by the water, especially summer cottages which are uninhabited for months at a time, this service can be invaluable.
Now I have the tranquility that I wanted in my lakefront home, knowing that I have a three year warrantee on my entire structure that I will not have a reinfestation of any kind of animal. I have to say that this last episode from my life was just like a Batman comic strip, as Bat Man is now my hero!
Charlotte
Dear Mr. Nelson Carter:
I just wanted to express my sincere thanks to you and your staff in resolving my "bat problem." Your staff was professional, courteous, and highly informed. Please let your staff know my appreciation for a job well done. I feel confident that my house is "bat proof" and can now enjoy a good night's sleep!
Again, I appreciate your hard work and I will highly recommend your company to my family, friends, and neighbors.
Sincerely,
JoAnn
"To whom it may concern"
We recently had the opportunity to deal with "The Bat Man." During the past few months, we were encountering several problems with skunks spraying and digging up our yard. In order to solve these problems, we contacted Nelson and within hours of our phone conversation he came to our home and presented us with his plan on how to rid our home of not only pests but also the smell, which invaded our home.
Nelson acted very professional and returned all of our calls the same day. We were greatly impressed and satisfied with his work and would highly recommend him and his crew for any animal problems you might come across. His service was fast and dependable. In addition to this, Nelson is a friendly and personable individual, who can be trusted to follow through on his plan.
It was our pleasure to have had the chance to deal with a reliable and pleasant person. Thank you for your time.
Sincerely,
Anita & George
Dear Nelson Carter,
We just wanted to send a letter of "thanks" for your services in Springville. We really appreciate you taking care of our bat problem and cleaning up our attic. Also, we express our greatest appreciation for being patient in the financial matter of the contract. We were very impressed by your professional work attitude and in the quality of work performed. We thank you once again.
Sincerely,
Jesse & Stacey
Dear Mr. Nelson Carter,
The references you gave me were outstanding. The woman who called me back spoke glowingly of your professionalism and compassion. (They also mentioned that you were not cheap, but that you were worth every penny).
I hope in my line of work I occasionally get recommendations as heartfelt as those.
Here's the down payment we discussed. Good Luck.
Sincerely,
David
Dear Nelson Carter,
Your work has made our house much more comfortable. The bats are not here twelve months later.
Sincerely,
Tom
List of References
| | |
| --- | --- |
| Kevin Cole, Mt. Bethel, PA | Alan Goldstein, Clarks Summit, PA |
| Rosemary Schwartz, Greentown, PA | Helen Crock, Tunkhannock, PA |
| Gerald Myers, Pocono Summit, PA | Jesse Trunk, Springville, PA |
| Frank Serafini, Moosic, PA | Eric Stevens, Shickshinny, PA |
| John Taylor, Kingston, PA | Duane Kersteen, Forty Fort, PA |
| Keith Grierson, Clarks Summit, PA | |