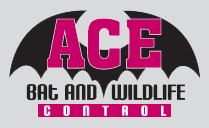 ABOUT US
Why ACE Bat and Wildlife Control?
Experienced
We have over 30 years of experience with animals and wildlife through outdoor pursuits, farming, and livestock operations.
We have a consulting wildlife biologist on staff for technical support and recommendations.
Professional Service
•We carry liability insurance coverage for protection of your property and assets.
•Certified and licensed by the New York State DEC for nuisance wildlife damage control.
•Member: National Wildlife Control Operators Association (NWCOA).
•Certified Wildlife Damage Professional (CWDP), National Wildlife Damage Management Academy.
•Certified Bat Excluder (CBE), Bat Conservation International.

We participate in continuing education through the NYSDEC, PA Game Commission, NWCOA, and other accredited programs.
LICENSED BY:

New York State DEC

New Jersey Division
of FIsh & Wildlife


Locally Owned and Operated
Animal removal and control is our specialty.
ACE Bat and Wildlife Control is a Scranton, PA. -based company with an emphasis on the Northeast Pennsylvania and the South Central New York region.
Our immediate service area includes all territory within a 90 mile radius of Scranton, PA.
We will travel farther on a case-by-case basis depending on the management required.

Prompt Response
Our services are by appointment only, however we can normally schedule a visit on the same day that you call. We offer a 24 Hour Emergency Service when an appointment just won't do. A typical emergency call would involve the removal of wildlife from the occupied areas of your home or business that requires immediate attention.
New Services
·Odor Diagnosis and Control
·Noise Diagnosis
·Animal Carcus Removal
·Guaranteed Bat and Animal Exclusion